Disabling popup stopper
20:00:53 Sep 5th 05 - VU Admin:
Eather allow popups the first time a popup is blocked, or go to internet settings and allow popups for visual-utopia.com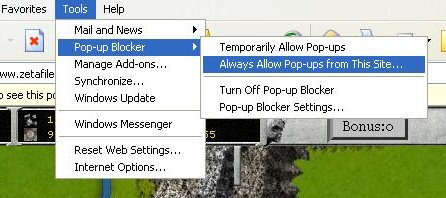 14:19:59 Oct 17th 05 - Mr. Corwin:
how about firefox? wont work!

17:02:23 Oct 17th 05 - Sage Bill Thomas Killman:
firefox is tools -> options -> web features -> uncheck "block pop-ups" or use the button on the right to add http://visual-utopia.com to your "allowed" list

17:15:06 Oct 31st 05 - Mr. Plz Dont Kill:
hey anyone know how to enable java scrips?
15:35:21 Jan 28th 06 - Mr. Sinjin:
For Firefox:
Tools - Options - Content - Check Enable Javascript and Java


01:13:48 May 9th 07 - VU Admin:
If this doesn't work, simply go to account settings and disable "play the game in full screen".

11:13:12 Aug 12th 07 - Sir Scientist:
For all those people who are wondering HOW you play the game.......work through the tutorial world, thats what its there for. For those people who the game won't work for a technical reason, read through some of the guides, they have answers for some of the common problems which people encounter. Stop posting that you "can't" play and do something about it...............
Posting that you can't play will not allow you to then play the game, work through the tutorial and read The Guide that will explain almost everything that you would possibly want to do in the game.........

13:52:13 Dec 25th 07 - Mr. Artix:
[Top] Pages: 1
My bookmarks
Old forum design
- close -