Whats Visual Utopia?
00:05:40 Nov 29th 05 - VU Admin:
Visual Utopia is a fantasy web game played in your browser. It has an advanced map based on asp and javascript, so you do not need any plugins or downloads to play it!
The goal of the game is to grow an empire stronger then everyone else's, using strategy and politics.
You can explore and create new colonies or train armies that you can use to take over colonies by force. Depending on the terrain, the colonies will produce resources that you can trade on the market or use for constructing and training of troops.
00:07:10 Nov 29th 05 - VU Admin:
To be succesful you have to cooperate with your kingdom to coordinate defence and offence. The screenshot below is from the height of the stalemate with Phi vs DB in era 29.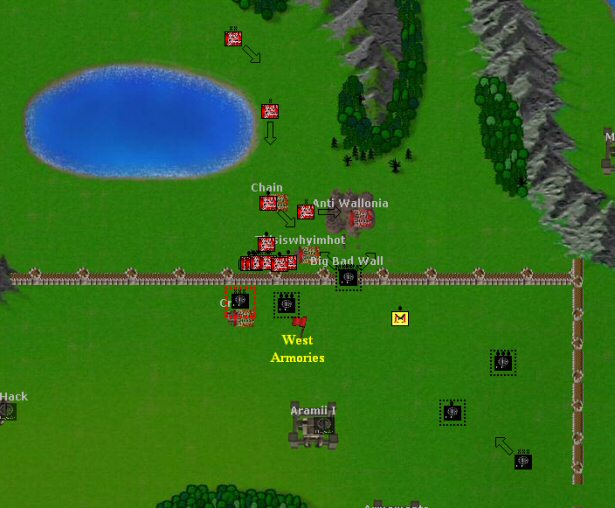 Planning is very important. In this screenshot Phi scouts want to invade carnage territory or settle near other phi towns..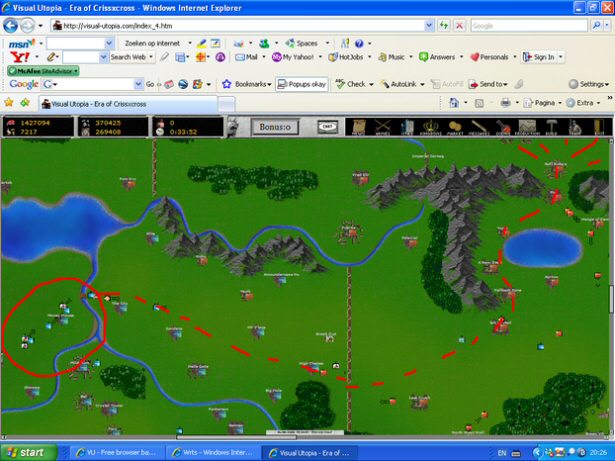 00:18:44 Oct 20th 06 - VU Admin:
20:09:55 Dec 14th 06 - Mr. Coldwar:
I am playing this game for over 1 day and i like it very much!
Realy! i love this kind of games , Keep going!
21:39:05 Jan 3rd 07 - Mr. Bezza:
this is the best game in the world
00:09:44 Jan 20th 07 - Mr. Czar:
I love these games. they are addicting, fun to play, and it improvements everyday do to other online ppl. (improvements as in the situation your in) This game there is no long boring peace between kds like other games because of units being too valuable to wast because of a turn limit that is a great idea it also lets newbes get a wack at the game with out being beat to bad. (lol i am a newbe somewhat myself)
(Needed to change the post to get a unexpected "*deep*" out of the post wich didn't make any sence if you read it with the beep in it)
(Edited by Mr. Czar 1/20/2007 12:12:24 AM)
20:49:11 Dec 7th 07 - Mr. Asmuth:
I love this game and play in my spare time i play this more than any other game before!
02:55:59 Dec 8th 07 - Mr. Cador:
this game is awesome i actually have something to do in my spare time.
14:17:41 Dec 27th 07 - Mr. Lunataris:
It's a really awesome game!
18:15:41 Jan 2nd 08 - Mr. Zacx:
how do you finish the troural?


22:41:51 Jan 2nd 08 - Sage Trynton:
you have to find and take over/burn the natives city.
11:04:32 Jan 14th 08 - Mr. Appleguy:
I have never seen a web browser strategy game before and I think this is so cool
23:48:14 Mar 16th 08 - Mr. Plato:
VU IS THE BESTEST GAME EVA!!!!!!!!!!!!!!!!!!!!!!!!!!!!!!!!!!!!!!!!!!!!!!!!!!!!!!!!!!!!!!!!!!!!!!!!!!!!!!!!!!!!!!!!!!!!!
23:38:46 Mar 28th 08 - Mr. Samulis II:
I love this game! it is so fun. I have voted for it, and I just *glurk* (I faint on the ground).
ok, I just like this game ALOT it is fun and I am almost dead, but not, but still almost dead... it is still so fun!
18:43:17 Apr 14th 08 - Mr. Samulis Quintus Augustus:
I love it fully and completley! I spelled that wrong didint I, I love it so much, I dont care!
19:15:44 Jul 2nd 08 - Mr. Speed:
HOW THE HECK DO YOU BUILD A WALL LIKE THIS?!?!?!?!?!?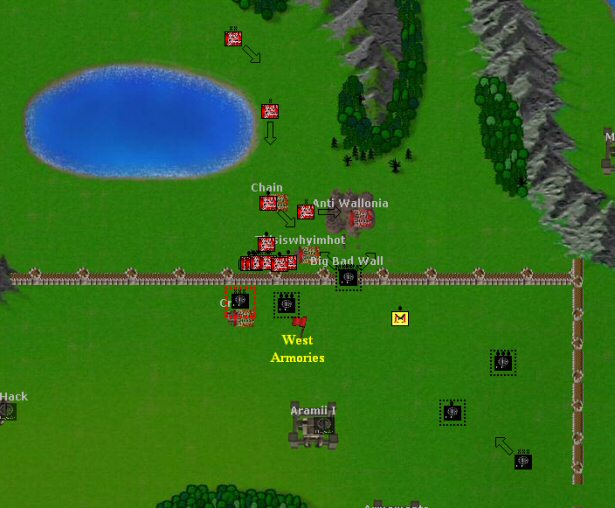 19:16:44 Jul 2nd 08 - Sir Ernie The Orange:
Those were the great walls -.- they are extinct(as in removed)
23:39:07 Sep 18th 08 - Mr. Haldir:
pretty much the BEST game i've ever played
00:12:08 Sep 19th 08 - Lady Jasmina:
I started this game three eras ago, and still I am a new player :)
But its pretty easy to learn and its so much fun :)

New players are coming all the time :)
For example, three eras ago we formed a Kingdom out of all new players
And now we have those and couple of more new ones :)

I have played couple of other browser based games, but I have to say that only in this one you actually use your skills and tactics to win.
Really awesome game :)

23:51:23 Dec 22nd 08 - Sir Marius:
lol septim... well i know how to discribe VU... and addiction... i have been playing for abour 5-7 years now and have taken a break to go to boot camp and then when i got out i started again.... darn you ADMIN...
17:11:58 Jan 12th 09 - Mr. Taz:
this game does look cool and cat wait to get out of tutorial

05:43:32 Jun 29th 09 - Duke Death Proof:
http://visual-utopia.com/images/screenshots/2.jpg

Aww that;s nice to see....Legacy Blue and Carnage..DB and Phi, walls...bringing back some memories :)
12:37:22 Jul 10th 09 - VU Admin:
[Top] Pages: 1
My bookmarks
Old forum design
- close -